#Be-troit the recovery
Yes, #Be-troit is an artist exchange between Detroit and Berlin, taking place in Detroit as we speak. An exchange that will produce new works to be presented on the forthcoming album in April 2017 in Berlin. In addition we are currently shooting a documentary.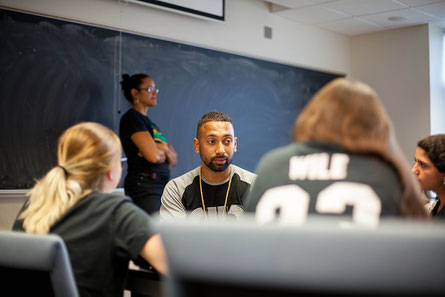 We have also conducted a number of workshops with young people and students at the Covenant House, the Neutral Zone and at the University of Michigan. Unfortunately some of our artists fell ill due to what seems to have been a particularly nasty stomach bug. Now that everyone has recovered we are in full recording mode. Which is the reason that we had to cancel today´s show at the Neutral Zone. Time is becoming an issue but we feel we were able to catch up just a little.
#Be-troit
Ja, #Be-troit ist ein Künstler Austauschprogramm zwischen Detroit und Berlin das derzeit in Detroit stattfindet. Ein Austausch der neue Werke entstehen lässt um diese im April 2017 auf dem kommenden Album zu präsentieren. Zusätzlich produzieren wir derzeit einen Dokumentarfilm zu dem Projekt.
Wir haben zudem eine Reihe von Workshops mit Jugendlichen und Studenten im Covenant House, in der Neutral Zone und an der University of Michigan abgehalten. Leider sind einige von uns wegen einem ziemlich miesen Virus der seit unserem Herflug die Runden macht erkrankt. Jetzt wo alle wieder gesund sind, befinden wir uns in vollem Aufnahmemodus. Was dann auch der Grund dafür war, dass wir die für heute geplante Show in der Neutral Zone absagen mussten. Die Zeit läuft uns davon aber wir denken das wir heute ein gutes Stück aufholen konnten.
#Be-troit